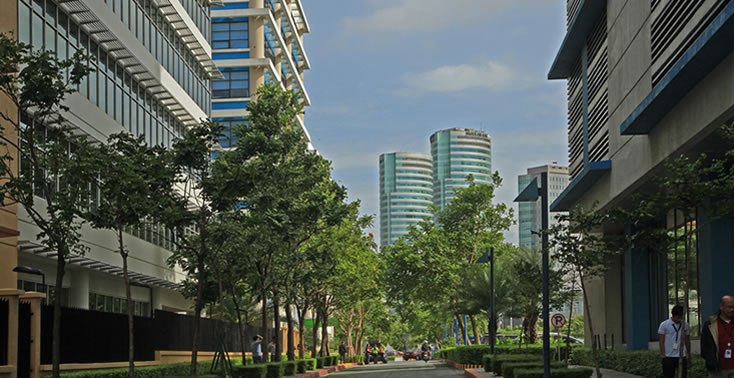 Filinvest
is one of the top residential property developers in the country. Over the years, it has established itself as a leader in residential housing development especially in its core business of affordable and middle-income housing.
From its first middle-income residential subdivision in Cebu, Filinvest never looked back, expanding steadily into various locations where there was a need. Today, Filinvest is a full-range property developer with an impressive portfolio scattered all over the archipelago. From building houses, the company has diversified into high-rise condominiums, medium-rise developments, BPO office buildings, shopping centers and leisure developments.
Filinvest
is the developer behind successful projects such as the 52-storey PBCom Tower which is the tallest office building in the country, premier outsourcing hub Northgate Cyberzone in Alabang, and the sprawling Festival Supermall which remains the undisputed regional shopping center south of Metro Manila. For the high-end market,
Filinvest
created the exclusive Brentville community in Laguna which is home to Brent International School and a growing multi-cultural residential population.
The company likewise strives to constantly introduce innovative concepts such as the Spatial condo series, all-studio condominiums for yuppies, oasis-themed mid-rise enclaves, Versaflat units that merge home and office, and more, to tap new markets with huge growth potential.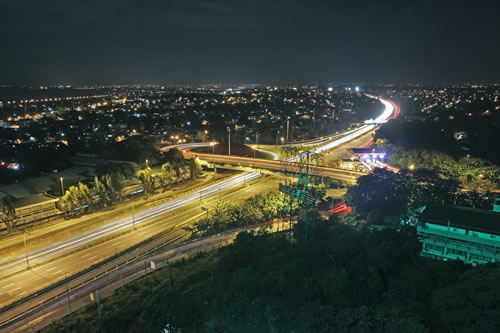 Filinvest Land, Inc.
(FLI) is one of the leading real estate developers in the Philippines. It is a subsidiary of
Filinvest
 Development Corporation (FDC), which has more than 40 years of experience in real estate development. Founded by Mr. Andrew L. Gotianun, Sr., FDC is the holding company of the Gotianun Family. Originally engaged in the small-scale financing of second hand cars in 1955, the Gotianun Family's business later expanded into consumer finance in partnerships with foreign institutions such as Chase Manhattan Bank, Westinghouse Electric Corporation and Ford Philippines. By the early 1980's, the Gotianun Family's
Filinvest
 Credit Corporation had become one of the leading consumer finance companies in the Philippines in terms of assets, and the "
Filinvest
" name had become well-recognized in the Philippines. The Gotianun Family entered the real estate business in 1967 through the incorporation of
Filinvest
Realty Corporation, which engaged in the development of residential subdivisions. In 1984, the Gotianun Family consolidated their real estate interests in FDC after divesting their shares in two family-owned banks, Family Bank and Trust Company and the Insular Bank of Asia and America. By 1990, FDC expanded its product line to include the development and sale of low-cost and medium-cost housing units.
Filinvest Land, Inc. was incorporated on November 24, 1989 as Citation Homes, Inc. and changed its name to Filinvest Land, Inc. on July 12, 1993. It began commercial operations in August 1993 after FDC spun off its
real estate operations and transferred all related assets and liabilities to Filinvest Land, Inc. in exchange for shares in Filinvest Land, Inc. . Filinvest Land, Inc. was listed on the Philippine Stock Exchange (PSE) on October 25, 1993. FDC remains Filinvest Land, Inc.'s largest shareholder, beneficially owning approximately 51% of Filinvest Land, Inc.'s outstanding common shares and all of its outstanding preferred shares.
Leader in Affordable Housing Segment
Filinvest Land, Inc.'s business has historically focused on the development and sale of affordable and middle-market residential lots and housing units to lower and middle-income markets throughout the Philippines. It has developed over 2,100 hectares of land, and provided home sites for over 110,000 families, which makes it one of the largest home providers in the Philippines today. In recent years, Filinvest Land, Inc. has expanded its residential business to include other income segments (high-end) and themed residential projects with a leisure component, such as farm estates and developments anchored by sports and resort clubs.
Filinvest Land, Inc. has substantial experience in developing and introducing new formats to the residential real estate market. The Company intends to be at the forefront of market changes by continually innovating and introducing new project formats to anticipate and meet market demands. Recent innovations includes:
(a) Homes situated on small lots designed to be expanded vertically through the addition of a second storey without requiring the occupants to vacate the home while the second storey is being added.
(b) The "Entrepreneurial Village" or "Asenso Village" concept which is the result of a collaborative effort with the Government to allow entrepreneurs with small- and medium-size businesses to live and work in a residential development with access to Government agencies that assist small businesses.
Filinvest Land, Inc. is also a pioneer in the development of very large master-planned township developments which provide a convenient mix of commercial, industrial and residential uses.
Filinvest Land, Inc. currently has over 100 projects located in 39 cities and municipalities nationwide. The Company has an extensive network of sales offices, in-house sales agents and independent brokers located throughout the Philippines, as well as accredited brokers in countries and regions with large Overseas Filipino Workers (OFW) and expatriate Filipino populations (such as Japan, Italy, the United Kingdom and the Middle East). Approximately half of Filinvest Land, Inc. real estate sales are directly or indirectly derived from Overseas Filipinos (OFs).